Sentient Science hosted three different solution providers to discuss their approaches to double gearbox life in wind turbines. They showed their unique materials, torque dampener, and components and how these contribute to making wind turbine gearboxes last longer. The DigitalClone life extension model can take these benefits into account to validate the benefits and the results of the life extension simulations.
Presenter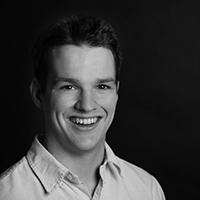 Wesley Thomas
Business Develop Manager
Wesley Thomas is responsible for developing commercial business, managing Sentient's key partner relationships, and implementing demand generation strategies. He has executed over $2M+ of government funding contracts and commercial business since joining Sentient Science. Wesley received a Honors Bachelor of Arts (HBA) degree in Business Administration with Distinction from the Richard Ivey School of Business in London, Ontario.