Sentient Science Develops Additive Manufacturing Life Prediction Capabilities Using $5M in U.S. Government Funding
Sixth Research & Development Grant Awarded to Sentient to Accelerate AM Modeling Program
June 12, 2018 – Buffalo, NY – The Small Business Innovative Research and Small Business Technology Transfer Programs recently awarded Sentient Science with two new grants from the United States Department of Defense (DOD) and NASA totaling $350,000, bringing the sum of awards to more than $5 million for the Buffalo-based company's additive manufacturing program.
The first Phase I DOD project is a Navy Phase I titled Innovative Processing Techniques for Additive Manufacture of 7000 Series Aluminum Alloy Components. The six-month program will include development of a hybrid additive manufacturing (AM) process to control thermal profile and stress evolution with anticipated results of an enhanced part quality devoid of negligible distortion, cracks and at full dense.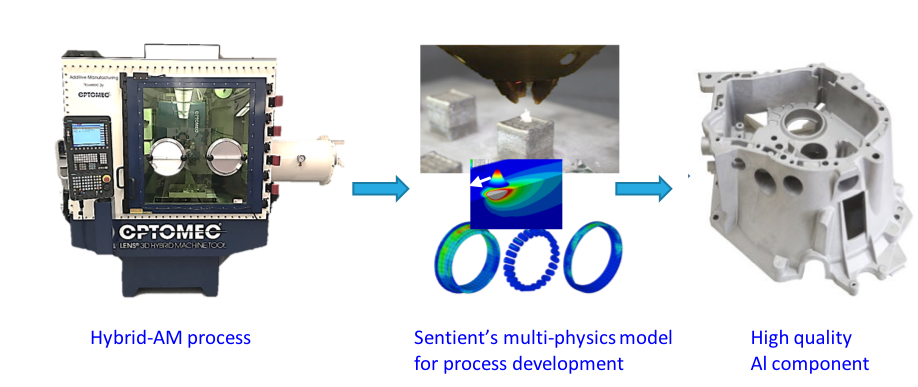 The second Phase I project is sponsored by NASA and is titled A Multiscale Modeling Suite for Process and Microstructure Prediction in Metal Additive Manufacturing. In this program, Sentient will incorporate its core technological approach using its DigitalClone technique for multi-scale and Multi-physics computational modeling and simulation to predict comprehensible outcomes from the AM building processes. This includes geometrical accuracy and resulting microstructure and defects.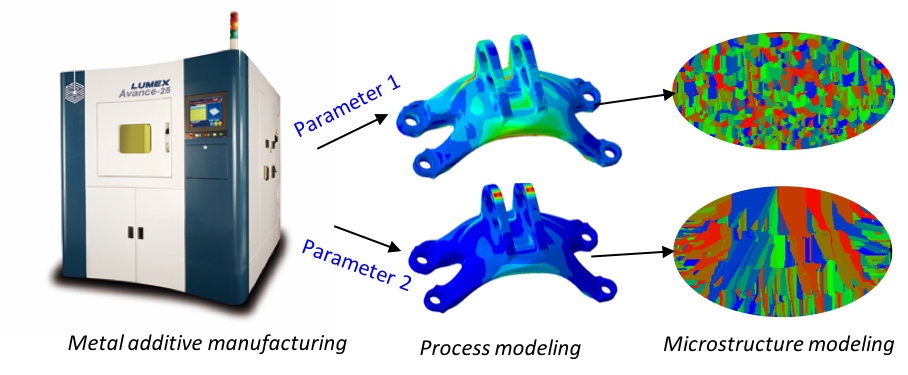 Sentient has successfully transitioned 100% of its additive manufacturing SBIR/STTR Phase I projects to Phase II (3 out of 3), and has high expectations that the three current Phase I projects will have similar success. As a result, Sentient Science is rapidly developing an industry-leading portfolio of capabilities to support design, qualification, and production of parts using AM processes.
"There's a sizable market opportunity for AM parts with large aerospace companies working with AM processes and materials for new and retrofit designs. Our R&D efforts are focused on filling the current gap in the industry for qualification standards and health monitoring of AM parts," said Jason Rios, Vice President of Aerospace and Government Programs.
Additive Manufacturing is one of the fastest growing areas of technology development with a global market opportunity of $9 billion in aircraft and defense industries. Military and defense products manufactured through AM processes will enable the production of lightweight durable gear, portable power units and spare parts to be processed in remote locations. This will minimize long lead times and extended downtime of assets.
Sentient Science has been developing AM capabilities for the past three years. DigitalClone, Sentient's flagship software, offers microstructure-level insight into the quality and reliability of AM parts, which will be vital in the computational testing and lifing validation of these products.
DigitalClone has a broad array of applications – including design/process optimization, asset/fleet management, supplier comparisons, and sustainment planning. Sentient has been awarded contracts from the Department of Energy (DoE), Office of Naval Research (ONR), the Defense Logistics Agency (DLA), US Army, and Naval Air Systems Command (NAVAIR) to assist the U.S. government in tool development and the establishment of a framework to assess and improve the quality and life expectancy of AM components.
DigitalClone is available commercially in the aerospace, rail and wind turbine industries. It's most widely used for life extension of wind turbines and 13% of revenue cost savings renewable energy companies. The company has contracted with several of the largest wind turbine owners in the world and is in process of live monitoring the health of 40,000 wind turbines globally. It's on track to be monitoring 100,000 wind turbines by 2020 with current customers in North America, Europe and China.
For more information, visit sentientscience.com
*Images of Additive Machines from the University of Nebraska – Lincoln