Dr. Adrijan Ribaric presents on wind loads analysis and the impact they have on drivetrain life.
The webinar introduces Sentient's wind load capabilities calculating loads derived from 10 min average historical SCADA data.
Today, Wind Turbine OEMS utilize design load cases for the design and certification of wind turbines. These load cases are applied to ensure that turbines operate in a stochastic environment for at least 20 years.
However, reliability analysis should not stop at the design stage. Once a turbine is commissioned, consequent reliability analysis should also be conducted in order to understand how long a turbine will truly last at an installed location with the exposed environmental conditions.
Presenter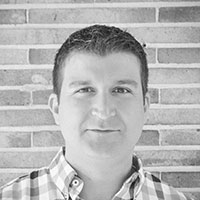 Adrijan Ribaric, PhD.
Head of Industrial Internet Services
Dr. Ribaric is responsible for the research and development of DigitalClone System. His expertise includes multi-body dynamics numerical models for the dynamic behavior of bearing and gear systems. He holds a Ph.D. in Mechanical Engineering from the University of Arizona.