This webinar outlines Sentient's development on their White Etching Crack capabilities to current materials-based prognostics life prediction models to better predict wind turbine gearbox life.
The formation of white etching cracks (WEC's) in bearings are known to be one of the major failure modes associated with gearbox failure. WEC's can cause premature failures in rolling element bearings occurring as early as 1-20% of the calculated L10 life.
According to the National Renewable Energy Laboratory's (NREL) gearbox failure database, 64% of gearboxes failed due to bearings and 25% due to gear failures. These failures are causing increased downtime and costly repairs.
The webinar outlines microstructrual alterations detected in LSIS and HSIS bearings and how microstructural alterations impact damage in gearboxes.
Presenter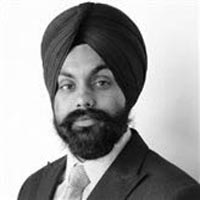 Dr. Harpal Singh
Lab Manager, Research Scientist