An industry case study that details Sentient's DigitalClone® Lifing evaluation on the impact of REWITEC®'s additive DuraGear® W100 application.
Learn How:
– To reduce your COE and take control of your wind assets pro forma
– Lubrication additives effect the life of your wind turbine drivetrain
– Surface finish extends gearbox life
– To maximize asset value with lubrication upgrades
Presenter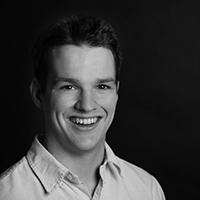 Wesley Thomas
Business Develop Manager
Wesley Thomas is responsible for developing commercial business, managing Sentient's key partner relationships, and implementing demand generation strategies. He has executed over $2M+ of government funding contracts and commercial business since joining Sentient Science. Wesley received a Honors Bachelor of Arts (HBA) degree in Business Administration with Distinction from the Richard Ivey School of Business in London, Ontario.