DigitalClone® PRISMS to combine physics and machine learning for aircraft-specific health models
Salt Lake City, Utah – May 14, 2022 – Sentient Science Corporation, a leading developer of physics-based modeling solutions for digital twin applications, has successfully concluded its participation in Army Aviation's Experimental Demonstration Gateway Exercise, or EDGE 22.  Conducted at Dugway Proving Grounds in the Utah desert from 25 APR to 12 MAY, the exercise focused on testing capabilities vital for future multi-domain operations.  As part of the Future Vertical Lift (FVL) Sustainment Showcase, Sentient Science unveiled a prototype interface called PRISMS that demonstrated to senior leaders and visiting dignitaries how the company plans to operationalize the digital twin and expand the value of digital engineering beyond design optimization.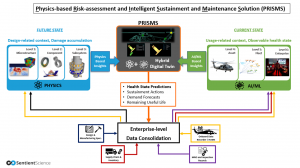 PRISMS, which stands for Physics-based Risk-assessment and Intelligent Sustainment and Maintenance Solution, features a multi-scale framework that combines physics-based modeling & simulation with machine learning to generate aircraft-specific drive system health models that can be critical enablers in reducing operating and sustainment (O&S) costs for the future fleet.  Sentient personnel, along with volunteers from 2-82 Assault Battalion, conducted a series of demonstrations for senior Army Aviation leaders and international military representatives from Italy, Germany, the Netherlands, Australia, France, Canada, and the United Kingdom throughout the three-week exercise. 
"We are extremely grateful for the opportunity to demonstrate the potential of technologies like DigitalClone," says Jason Rios, SVP of Defense for Sentient Science.  "There is strong evidence to suggest that capabilities such as PRISMS can not only accelerate innovation and reduce program risk, but also enable dramatic reductions in O&S costs and empower sustainment personnel to affordably maximize aircraft availability for both enduring and future fleet platforms."
About Sentient Science
Sentient Science's DigitalClone® software applies materials science and physics-based modeling to predict wear and fatigue damage of in the microstructure of critical components and major systems of helicopter drivetrains and rotating mechanical equipment. DigitalClone provides prognostic solutions impacting design, manufacturing, operations, sustainment, supply chain management, and many other aspects of the lifecycle of critical rotorcraft components. Sentient Science received the 2014 Tibbets Award at the White House for the role they played in research and development for the Government and for success in driving innovation into the industrial and energy marketplace, the Bloomberg New Energy Finance Pioneers Award in 2016 for commercialization of the DigitalClone software for life extension of wind turbines and Excellence in Wind Prognostics by Frost & Sullivan in 2017 and the 2020 Top Aviation Solution Providers by Aerospace & Defense Review.
For more information, please visit sentientscience.com or email contact@sentientscience.com
DigitalClone is a registered trademark of Sentient Science.