Funding for physics-based bearing life models for rotorcraft engine and drive system applications
Buffalo, New York – January 31, 2022 – Sentient Science Corporation, a leading developer of physics-based modeling solutions for digital twin applications, has been awarded a Small Business Innovation Research (SBIR) Phase II contract by the US Army Combat Capabilities Development Command (CCDC), valued at $1.1 Million for the 24-month effort.    
The objective of the program is to provide software-based capabilities to (1) generate a physics based rolling contact fatigue model which accurately predicts both subsurface and surface-initiated failure modes, and (2) accurately predict rotorcraft engine and drive system rolling element bearing life and durability based upon the generated model.
Sentient's proposal, titled "Physics-Based Modeling of Rolling/Sliding Contact Fatigue Life", leverages the company's patented DigitalClone® modeling methodology and was competitively selected for the award.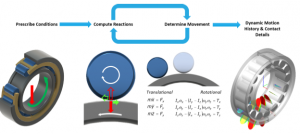 "We pride ourselves on the capabilities of our team and our DigitalClone technology to meet the needs of sophisticated customers eager to fully explore the potential of digital twin solutions, and we are grateful for this chance to support Army Aviation and the future fleet," said Jason Rios, SVP Aerospace.
About Sentient Science
Sentient Science's DigitalClone® software applies materials science and physics-based modeling to predict wear and fatigue damage of in the microstructure of critical components and major systems of helicopter drivetrains and rotating mechanical equipment. DigitalClone provides prognostic solutions impacting design, manufacturing, operations, sustainment, supply chain management, and many other aspects of the lifecycle of critical rotorcraft components. Sentient Science received the 2014 Tibbets Award at the White House for the role they played in research and development for the Government and for success in driving innovation into the industrial and energy marketplace, the Bloomberg New Energy Finance Pioneers Award in 2016 for commercialization of the DigitalClone software for life extension of wind turbines and Excellence in Wind Prognostics by Frost & Sullivan in 2017 and the 2020 Top Aviation Solution Providers by Aerospace & Defense Review.
For more information, please visit sentientscience.com or email contact@sentientscience.com
DigitalClone is a registered trademark of Sentient Science.