Wesley Thomas presented as part of 26th Annual Wheel Rail Interaction Conference (WRI 2021).
Sentient Science presented case study from the New York State Energy Research and Development Authority (NYSERDA) PON 3914 – Public Transit Technology and Innovation Program and the demonstration of DigitalClone Software to Accelerate Adoption of Transit Preventive Maintenance.
Case study of using transit economic models to quantify spend of rail maintenance and identify root causes
Case study of rail maintenance simulations to show the financial savings of protecting the transit agency's grinding strategy
Announcement of new integration into Trapeze Enterprise Asset Management (EAM) capital planning and State of Good Repair (SOGR) software
Presenter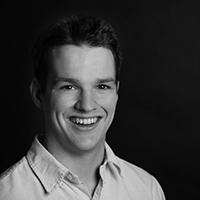 Wesley Thomas
Vice President, Rail
Wesley Thomas leads Sentient Science's DigitalClone for Rail business, and the Vehicle Track Interaction (VTI) Economics Group for the ICRI-RCF.

He has presented work at WRI 2018, APTA Rail 2018, Contact Mechanics 2018, ICRI-RCF 2019, Transit State of Good Repair 2021, and Progressive Railroading.

He works closely with customers and partners to connect science, digital tools, and financial value analysis to help organizations improve asset management, supply chain, and maintenance. For railroads, he is focused on helping providing evidence to quantify the value of methods to achieve cost savings for rail.

Wesley received an Honours in Business Administration degree from Western University's Richard Ivey School of Business in London, Ontario.