Today, many railroads are seeking to double, triple, or quadruple their installations of composite ties due to the potential game changing benefit of reduced total cost of ownership (TCO) compared to traditional ties. However, the risk of unknown composite tie life and historic quality problems are leading to "No Decision."
This FastCast webinar will outline a case study of a method tested at a Class 1 railroad that used computational testing to determine composite tie life much faster and more effectively than revenue testing and laboratory testing alone. Material-based physics models for composite tie life, called DigitalClone, coupled with software to track quality and history of each tie, enables railroads to make more informed decisions in composite tie engineering and procurement.
Learning Objectives:
1. How to quantify the life extension and return-on-invested-capital (ROIC) of composite ties with a "Buy on Life" strategy
2. How to leverage your past investment in revenue testing and laboratory testing for much faster confidence of composite tie life and evaluation of total cost of ownership (TCO)
3. How to prevent quality problems, premature failures, legal claims, and fraud by monitoring each tie shipped before supplier fulfillment approves a batch
Presenter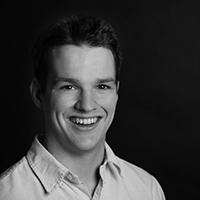 Wesley Thomas
Vice President, Rail
Wesley Thomas is a member of the Economics Group for the ICRI-RCF, a international group who share research to improve the railway industry.

Wesley is experienced in economic return-on-investment (ROI) modeling, new business model introduction, and enterprise software-as-a-service products.

He works closely with customers and partners to connect science, digital tools, and financial value analysis to help organizations improve supply chain, maintenance, and asset management. For railroads, he is focused on providing evidence to quantify the value of methods to achieve cost savings for rail and ties.

Sentient Science is a software company that uses physics models to assess and extend fatigue and wear life. The models connect to assets in the field, but do not require high volumes of historic data, to predict life and compare how new maintenance strategies and vendors can extend life. The company is located in Buffalo, NY with offices in US, EU, and China.

Wesley received an Honours in Business Administration (HBA) degree from Western University's Richard Ivey School of Business in London, Ontario.

He is a member of American Railway Engineering and Maintenance-of-Way Association (AREMA), Canadian Association of Railway Suppliers (CARS), and International Collaborative Research Initiative (ICRI) on Rolling Contact Fatigue (RCF) and Wear of Rails and Wheels.