With programs such as U.S. Army Future Vertical Lift (FVL), how can I predict rotorcraft drivetrain life and solve premature failures before they occur?
Dr. Behrooz Jalalahmadi, Lead Scientist for DigitalClone Component, will present how prognostic models are used to extend drivetrain life in design and operation. Learn how Sentient Science solved fretting fatigue failures on a spline component in a Blackhawk platform by evaluating new coatings and duty cycles with computational testing. Life extension programs for bearings and gears in the Blackhawk will also be shown. Drivetrain designers and operators for rotorcraft, industrial equipment, automotive, and wind turbine gearboxes should view this webinar.
Presenter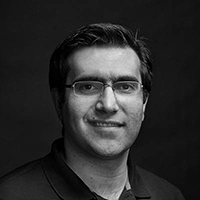 Behrooz Jalalahmadi, PhD
VP, Life Extension Solutions & Additive Manufacturing
Dr. Jalalahmadi received his Ph.D. in mechanical engineering from Purdue University where he conducted extensive research on Fatigue Life Scatter in Rolling Contacts with an emphasis on simulation and computational modeling. His expertise include: Fatigue, Voronoi simulations, material microstructure and its effects on mechanical behavior, tribology, contact mechanics, rolling contact fatigue, bearings, life equations for bearing elements, damage mechanics, nanotubues, modeling and simulation, Finite element, and computational analysis. Currently, he is the lead scientist for the development of DigitalClone Component and support of life prediction projects and validations.